9 Awesome AI Tools for Designers
Over the past few years, there has been an exceptional uplift in Artificial intelligence, which plays a significant role in transforming the way we think and work. As a matter of fact, AI can increase productivity by 40%. AI is discovering itself and gifting us new technologies to make our work life easier than ever. Not only do these tools help in reducing the overall effort time but also upgrade the creative output as well. Take a look at these awesome 10 AI-powered tools that designers can use to improve their work performance in less time and boost their creative possibilities to a whole new level.
Dall-E
In 2020, OpenAI, an AI research and deployment company, released Chat-GPT and Dall-E. Because of their deep learning base and human-like thinking abilities, both AI products became an instant sensation among netizens.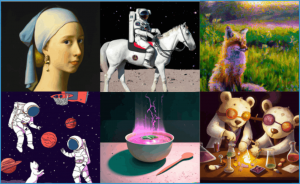 Dall-E is an AI-powered image generation platform where one can create images, artworks, and graphical illustrations from just some simple text input with unimaginable creative possibilities. You can either generate using text or upload their own and make further changes by text inputs. So, all you have to do is just tell Dall-E to create whatever innovative or bizarre idea you have, and it will produce wonders on its own. Use it for all your personal and commercial purposes.
Neurons
If you're a digital product designer, you'll love this. Neurons is an incredible tool developed by Loceye, that helps to perform reliable user research and testing with the help of neuroscience and their AI-powered eye-tracking attention heat maps for websites.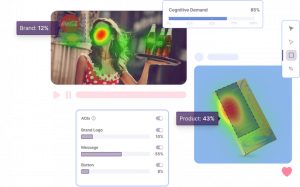 Neurons helps tremendously in lessening the research (e.g., A/B testing) time and has an accuracy rate of over 90%. With the help of this tool, one can also easily observe user behaviour patterns, improve visual clarity, and get a clearer understanding of the user's specific areas of attention in the digital product. Just upload your designs from any UI design software, and you'll instantly get in-depth insights into what your target users are focusing at.
Jasper
One of the main aspects of the design process is content. Writing high-quality content that draws users' attention and builds curiosity requires a lot of time and effort. That is where Jasper steps in. Jasper is an AI-based content writing platform that writes content for almost everything you need.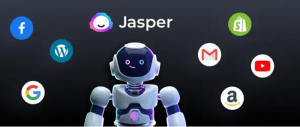 Jasper is rated thetop AI platform for creators and marketing teams. It has lots of templates and tools to choose from, making it surprisingly effortless to do copywriting (e.g., web content, advertising, marketing copies, articles, blogs, and emails) in just a few minutes. You can create content in 26 languages in Jasper. Another similar and free alternative resource is Smart Copy by Unbounce.
Remove.bg
There was a time when designers had to sit around for hours to remove the background of an image. Thanks to tools like Remove.bg, removing background from images has become a one-click task. It is undoubtedly a game-changer (and even a life-saver for designers) for image editing.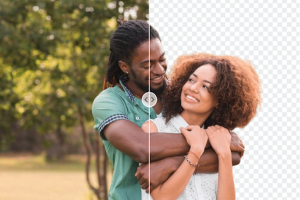 Remove.bg is a 100% free tool that uses AI recognition to remove the background from any image within 5 seconds automatically and optimizes image quality. It also has other features like customization that allows you to erase any specific area from the image background. You can even integrate it within your design programs for better workflow.
Khroma
Khroma is one of the most valuable and satisfying AI tools for designers. Developed by George Hastings, Khroma is a powerful AI-based color palette generator that generates endless color combinations for any design project.

Khroma is very simple and easy to use. It works on AI training and recognition to generate color palettes. All you need to do is train the program with at least 50 desired color hues and based on your choices, Khroma will generate limitless color combinations along with customization controls such as hues, tint, value, RGB values, etc. You can also get CSS codes and WCAG accessibility ratings for each pair. Not only just color palettes, but you can also generate gradients and duotone images based on your color preferences.
Let's Enhance
Improving the image quality of low-resolution images can be tricky. It can take hours of sharpening everything to make the images look pixel-perfect. Let's Enhance AI can do it within seconds.
Let's Enhance is an automatic AI image editor that increases the resolution with zero quality loss. It works like a photo enhancer tool that can improve, denoise, sharpen, and upscale any image. You can upscale everything from logos to artwork up to 16 times the original without losing quality. It can fix any image like blurred, poor colored, pixelated, and color burned with the help of its AI enhancement process. A great tool with similar features is VanceAI.
Kive
Finding the right design inspiration for a mood board is an essential part of the design process. However, sometimes we don't get the desired inspiration that hits the right spot. With the help of Kive is an intuitive cloud-based tool that uses AI to create and organize visual mood boards and libraries for creatives. One can easily create a mood board and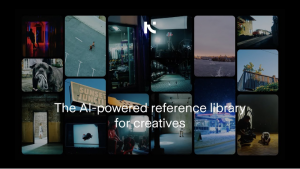 Kive automatically categorizes, sorts visual assets, and applies tags to any image based on AI recognition. One of the best features of this tool is the filters. You can explore lights, colors, faces, emotions, and many others. You can work from any device and even collaborate with your team members with ease. One free alternative with the same abilities is PlaygroundAI. It can help you save lots of time in creating a mood board for your next design project.
Generated.photos
Generated.photos are an excellent AI-powered avatar generator. With its help of it, you can generate unlimited faces and can even produce multiple variants of a single one. It can help designers to bring more trust and credibility to their designs without thinking about copyright issues.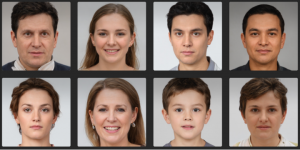 It also has customization features, with the help of which you can turn an image from 2D to 3D, create your AI lookalike, and even tweak any photo into one of the 11,232,000+ variants of the same face. It has 10+ filters (like face tone, emotion, ethnicity, etc.) that will make the avatar look the way you want. One free alternative for your commercial purposes is Thispersondoesnoexists.
Locofy
In the past, programmers had to work tirelessly just to build the first MVP. Thanks to AI, we have tools like Locofy, that convert your UI designs to fully functional and ready-to-ship frontend code, saving massive loads of time and effort. All you have to do is to upload your UI design (from Adobe XD, or Figma), and Locofy automatically converts it into production-ready responsive code (React, HTML-CSS, Next.js, Gatsby, etc.). It also has pre-built components and libraries so that you can achieve complete freedom over your creative work.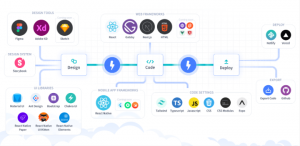 One similar tool worth mentioning is Fronty, which lets you convert images into clean HTML and CSS codes with the help of artificial intelligence. Just upload images (JPEG/PNG) and get your site live in a matter of minutes.